Excerpted from The Niagara Grapevine Magazine, Fall 2010
---
It is always interesting to meet someone whose passion can be traced back to their childhood.
This is the case with Karen Felesko, a St. Catharines metal sculptor who began transforming bits of aluminum foil into art and jewelry at the age of seven. Her artistic temperament also led her to competitive figure skating in Toronto, where she trained with Toller Cranston under legendary skating coach Ellen Burka (you can see a young Karen on the cover of Burka's instructional tome Figure Skating, 1974) who also owns a local art gallery. Her incredible youth surrounded by art and artists strongly influenced what has become a lifelong career designing, creating, and building original works, from exotic knitwear to massive metal pieces.
From skating, she followed a creative calling that led to the retail development of her own knitwear label, Filomene Knits, for which she designed and patterned custom knitwear for 13 years. During that time, she taught knitting and pattern making at Niagara College and, when her passion ran its course, she traded textiles for tin, aluminum, stainless steel, and copper, among other metals and returned to her roots sculpting foil into objets d'art.
She found herself a welding machine, rented a shop, and Visionary Metal (Now Karen Felekso Art) was born. She distributed flyers and promoted her talents in a community she felt was deprived of art. Her vision was not simply three-dimensional metal works, but sculpture on a very large scale.
Felesko's artistic impact on the region has been great. About 18 months ago, she was recognized by Artfest, a public art program conceived as a joint partnership between private business and the Province for the sole purpose of expanding the appreciate and production or art in the Niagara Region.
Her research to find the right artistic undertaking led her to her dream project, a children's memorial for Patterson's Funeral Home in Niagara Falls. Sixteen hundred pounds of stainless steel, copper and brass later, Felesko's vision manifested in Rebirth, an eight-foot-high structure featuring morning glories to showcase her passion for meaningful, functional art, incorporating water and other natural elements. The results presents as the veritable essence of what it is to be human at the intense point of transition between loss and an acceptance of the mystery of rebirth. Her artist's statement resonates with the almost visceral effect of the piece:
The Morning Glory Fountain symbolizes rebirth. The cycle of life is represented by the rotation of water weaving through the flower petals. Iridescent in form, the petals are designed to reflect the colour and light in a way that is unique to the moment of each day. Crowning the peak of the fountain is a bouquet of morning glories, symbolic of new life. With each new day, a morning glory blooms in harmony with the rays of the rising sun to reveal a star which represents the eternal light our children's spirit.
The main idea behind the piece is inspired by another of Felesko's passions, the Chinese art of feng shui, whcih states that art and function must come together in human environments to create and enhance peace and harmony. Her goal is to create pieces that make people feel good, and her sense is that water and metal, functional elements of human existence, are essential, especially in combination with each other. Felesko is compelled to incorporate water fountains into her metal sculptures and the result is pure magic.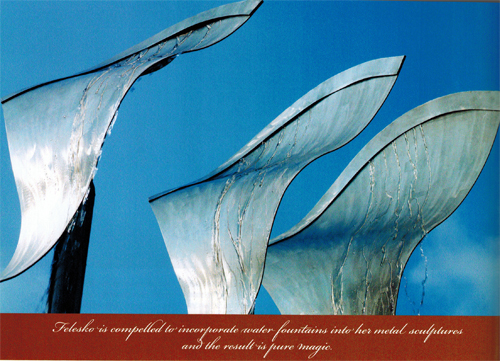 Asked what she has lined up at the forge, Felesko's excitement is palpable when she tells me that she is one of three finalists selected for the public art piece slotted for installation at the new Aquatics and Library Facility at Lester B. Pearson Park in St. Catharines. Titled Momentum of the Dive, the stainless steel structure will be bent organically in three ways, one for each of Lakes Erie, Ontario, an the Niagara River.
The day we spoke, Felesko was busy installing an eight-foot stainless steel and copper custom piece for the type of private client, she, until now, has been largely accustomed to producing work for. Her hope is that sculpting for business will flourish for her and for other artists since the "artification" of public spaces is her great not-so-long term vision for the region. With word of mouth and her work's power to communicate for itself as her only sources of exposure, Felesko's impact on the work of art in the Niagara Region expands by the day. Her childhood influences, along with the spiritual influence of eastern philosophy, govern her belief that we are all here for a reason and that we must follow our own intuitive sense of what is real in order to create meaningful work.
Her intuition is the only rule book she follows, and she adheres to it religiously. Even as a knitwear designer, she eschewed fashion magazines with the same fervor she rejects- even goes out of her way to avoid -commercial influences in her current work. As the company name implies, "Visionary Metal" comes in a flash from an internal source that is difficult to define. She keeps a catalogue of her work to show potential clients, but she encourages them to use their own vision to help her form the piece they are about to welcome into their environment. She relates the story of a man who recently asked for table in Art Deco style. In working up her sketches to present to the man and his wife, her hand resisted, over and over, the geometric lines of what the had requested almost defiantly, in favour of the organic movement of a tree. Apprehensive to show them the drawings he had clearly not asked for, she asked his wife what she had in mind: "I can't seem to get away from the image of a tree when i think of our new table," she replied. Felesko laughed and produced her drawings, the result of which was on of her most satisfying pieces, and proof that her internal artistic compass will lead to even greater success that she currently enjoys.
To consolidate her internal influences and hone her understanding of feng shui, Felesko recently followed her heart to China after a chance meeting with a Chinese tourist who invited her there. She was overwhelmed by the Chinese way of looking at the world and their organically inspiring sense of space, even in the most mundane of urban environments. While she did not meet other metal artists, she was amazed by the freedom artists of all stripes have to set up shop and practice their art in any community. She notice an implicit emphases on beauty for its own sake and an indescribable aesthetic she can only attribute to communism-linear and regimented-against the ancient backdrop of Chinese art and design. When asked what she learned in China, she answered that she was overcome with an uplifting sense that what she has been doing in her own art is exactly where she needs to be. Her experience there reinforced the intuition that has awakened her work since childhood and she is happy to bring that renewed confidence home Canada. To add to the thrill of it all, Felesko also brings home a new art project commissioned by a private client in China, now in its design stages. Her burgeoning relationship with the Far East bodes well for her own work as an artist and, lucky for us, the Niagara art scene as well.