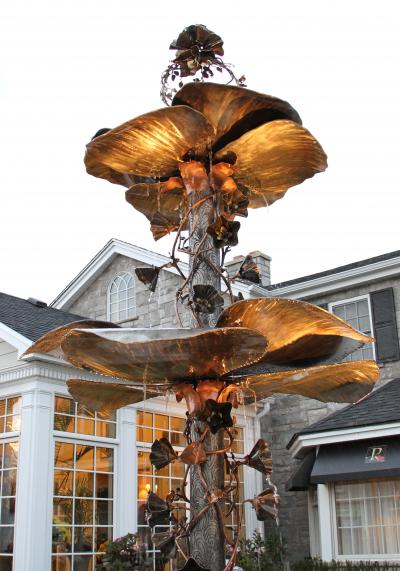 Are you looking for the perfect piece of custom metal or mixed media art work to fit a specific spot in your home or business... or maybe even your back or front yard garden?
Karen's custom designs are some of her most remarkable and well-loved work. Whether its a piece of wall art for above your fireplace, a sculpture for your backyard, or a dramatic fountain, bring on your ideas!
How does it work?
Karen will arrange a meeting at your home or office. Together you and she will contemplate the space where the final piece will go. Together, you'll discuss your ideas and flip through Karen's portfolio to see what resonates with you and the space.
Then, based on your budget, Karen will begin the creative process, developing initial sketches to present to you.
Together, you'll embark on a collaborative process that will be as rewarding for the process itself as it is when you finally install and enjoy the art work.
The possibilities are endless!
Your custom piece can be freestanding, wall-mounted or table top... sculpture or wall art... large or small... for your residential or commercial property.
The piece can use a single material such as aluminum, or can be mixed media: stainless steel, copper, wood, stone, fabric.
---
Ready to get started?